The Chemical Ocean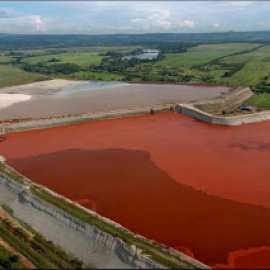 Toxic chemicals released into watersheds and waterways remain a persistent problem despite the sounding of alarms, which for decades have railed against the uncontrolled use of fertilizers and pesticides. Today, the issue is as pervasive and as threatening as ever. In this episode of World Ocean Radio host Peter Neill shares research on international protections and management approaches and argues that despite best intentions, precautions against use and dispersal are limited, confused, mired in regulatory bureaucracy, and lacking in international consensus.

尽管有警报发出,但有毒化学物质仍被不断地排放到水域里。这一持久的问题是由于几十年来,人类对化肥和农药不加控制地使用所造成的。在今天,这一问题和以前一样普遍和可怕。在本期世界海洋电台节目中,我们将与您分享关于国际保护和管理方法的研究成果,我们认为尽管我们有最好的意图,但我们在化学品的使用和扩散上的预防措施是很有限的,而且陷入官僚化管理及缺乏国际共识的困境。

Les produits chimiques relâchés dans les bassins versants et les cours d'eau sont un problème récurrent malgré toutes les sirènes d'alarmes, qui se sont élevées depuis plusieurs décennies contre un usage non-contrôlé des fertilisants et pesticides. Aujourd'hui, le problème est encore plus présent et menaçant que jamais. Dans cet épisode de World Ocean Radio, nous partageons des recherches sur les protections internationales et les approches de gestion et nous soutenons que malgré les meilleures intentions existantes, les précautions contre l'usage et la dispersion sont limitées à cause de la régulation bureaucratique et du manque de consensus international.

Os produtos químicos tóxicos libertados em bacias hidrográficas e vias aquíferas são um problema que persiste, apesar do som de alarmes que, durante décadas, têm protestado contra o uso indiscriminado de fertilizantes e pesticidas. Hoje, o problema mantém-se tão generalizado e ameaçador como então. Neste episódio da World Ocean Radio partilhamos pesquisa sobre protecções e abordagens de gestão internacionais, argumentando que, apesar das boas-intenções, as precauções contra o uso e disseminação são limitadas, atoladas que estão em burocracia reguladora e na falta de consenso internacional.
About World Ocean Radio:
Peter Neill, Director of the World Ocean Observatory and host of World Ocean Radio, provides coverage of a broad spectrum of ocean issues from science and education to advocacy and exemplary projects. World Ocean Radio, a project of the World Ocean Observatory, is a weekly series of five-minute audio essays available for syndicated use at no cost by college and community radio stations worldwide.
World Ocean Radio Has Gone Global:
A selection of episodes is now available in Portuguese, Spanish, French, and Swahili. For more information, visiit WorldOceanObservatory.org/world-ocean-radio-global.
Image: Remember the toxic red sludge chemical disaster, 2010, in Hungary?
This photo shows a reservoir containing red mud of an alumina factory near
Ajka, Hungary, 2006.
Credit: EPA | Sandor H. Szabo
Episode Notes & Resources:
< The Precautionary Approach and the International Control of Toxic Chemicals: Beacon of Hope, Sea of Confusion and Dilution. David VanderZwaag, Dalhousie University, Schulich School of Law. Houston Journal of International Law, Vol. 33, No. 3, 2011.
< UN Millennium Development Goals Report, 2009.
< UNEP Strategic Approach to International Chemicals Management [pdf]