W2.O: A New Strategy for the Future
A Shift in the Wind, A Turn of the Tide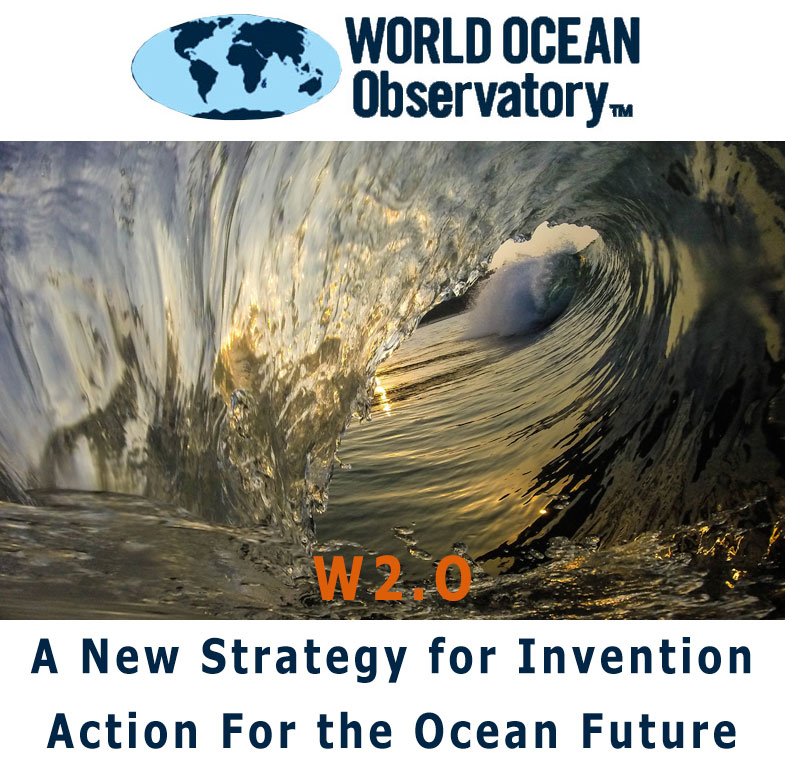 Over the past 15 years, the World Ocean Observatory has
advocated for the ocean through communications
, as a place of exchange of information and educational services about the ocean. W2O has produced a comprehensive website, syndicated radio and podcast, aggregated video, an online forum, a digital magazine, downloadable exhibits, a comprehensive curriculum catalog, a virtual aquarium space for students, and relentless social media to build an international community of
Citizens of the Ocean
to serve as a committed constituency of literally millions for the understanding and sustaining of maritime resources worldwide. It has been a gratifying passage, and we are grateful to all of you for your generous and ongoing support.
The urgency of ocean need remains, and critical challenges demand energy and imagination. What and how can we do more? Advocacy through information and communication is not enough and we can no longer merely observe and educate.
WE MUST ACT.
And so, as an expanded expression of our W2O mission, we are compelled to invent innovative solutions and seek novel partnerships that will provide and provoke, engage and succeed, toward breaking the conventional response and behavior of the present by the introduction of real, disruptive outcomes for the future. We are calling this shift W2.O.
Here are some new programs that address specific ocean needs and intervene directly into existing systems of climate action, fisheries management, ocean literacy and education, the Arctic, and expanded communications beyond our present achievements to include film and publications. Each of these is envisioned as a major expansion of public engagement and each is intended to be self-financing and most will be revenue-enhancing over time. Projects have been chosen that will amplify our voice through practical, dynamic services for a global audience that will result directly in greater understanding, regenerative practices, and viable solutions for the immediate ocean challenges.

---

WORLD OCEAN FORUM
Providing a new platform for ocean solutions, the Forum is highlighting key ocean voices toward an active community of opinion, ideas, and innovation in ocean policy, conservation and exploration worldwide.
LEARN MORE:
worldoceanforum.org
---

UCAPTURE CARBON OFFSETS
Using the power of consumption to offset the consequences of consumption to assist environmental organizations in the sustainability and conservation of international natural resources.
LEARN MORE: ucapture.com/w2o
---

WORLD OCEAN EXPLORER
Educating through a virtual aquarium experience in the context of ocean literacy and open access to marine science and oceanography available to classrooms and curious individuals worldwide at no cost.
LEARN MORE: worldoceanobservatory.org/world-ocean-explorer
---

SEAFOOD COMMONS
Building an open-source, self-governing and financed blockchain technology for the international distribution of seafood product at the highest standards of quality, sustainability, transparency, and accountability to conserve and rationalize fishing practices both coastwise and on the high seas.
LEARN MORE:
seafoodcommons.org/about
---

ARCTIC FUTURES INSTITUTE
Exploring solutions for the Arctic, particularly through a model relationship between New England and Greenland. In partnership with the University of Maine School of Law and the Climate Change Institute.
LEARN MORE:
arcticfuturesinstitute.org
---
INTERNATIONAL MARITIME FILM FESTIVAL
As major sponsor of this year's festival (Sept 27-18) our intent is to package this year's winners with winners from prior year's festivals into a national tour for showings by maritime museums, environmental groups, educational institutions, and conservation organizations with interest in maritime affairs.
LEARN MORE:
maritimefilmfestival.com
---
As always, we are connecting the ocean community through our vast communications network: our website, social media (Facebook, Instagram and Twitter), World Ocean Radio, World Ocean Journal, publication of books and anthologies, and more. Visit worldoceanobservatory.org/partner-initiatives to learn more about these innovations. There you will find means to enroll in these services and to assist in distribution of these actions to your family, friends, and affiliates. You will find the opportunity to continue and to increase your financial support to capitalize this new strategy for invention and action for the ocean future. You are the foundation of the W2O ocean community and you have our thanks. We are shifting in the wind, taking advantage of the turn of tide, and trust you will be newly inspired to work alongside. The sea connects all things.
We encourage you to contact us to discuss this expanded strategy.
Thank you.
director [at] thew2o [dot] net
---