The Outlaw Ocean, Part One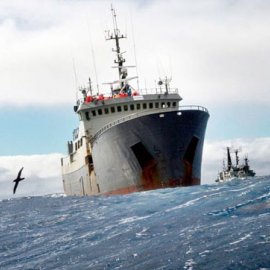 The outlaw ocean, a space apart, hidden from view, a place of rampant criminality and exploitation. This week on World Ocean Radio we offer part one of a four-part series devoted to "The Outlaw Ocean," a new book by award-winning New York Times investigative journalist Ian Urbina. In this episode we read select excerpts from this remarkable journalistic endeavor that begin to shine a light on just some of the dark side of life on the world ocean of which most of us are completely unaware.
Do you prefer the written word? Head on over to Medium.com/@TheW2O.
About World Ocean Radio
World Ocean Radio is a weekly series of five-minute audio essays available for syndicated use at no cost by college and community radio stations worldwide. Peter Neill, Director of the World Ocean Observatory and host of World Ocean Radio, provides coverage of a broad spectrum of ocean issues from science and education to advocacy and exemplary projects.
Image credit:
© The Outlaw Ocean Project