Maritime Culture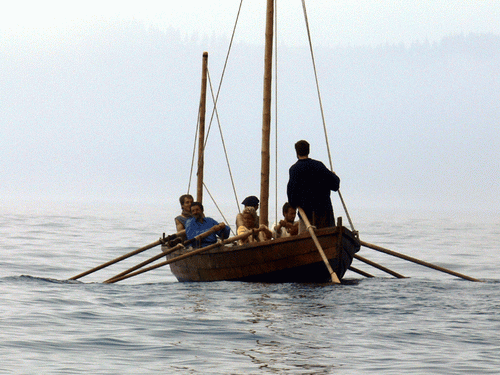 Basque whaleboat replica built by Albaola
Maritime traditions are as varied as the human experience of the sea. Some traditions are tangible, many are intangible, but all express the spirit of our interactions with the sea over time.
Many maritime customs and traditions arise from the elemental activities of daily life on the sea. The vast realm of expression around our human experience of the sea is less tangible, but equally vibrant. People create poetry and music, literature and mythology, games, and religious ceremonies, all related to the sea. Language and oral tradition, festivals and community worship, superstition and belief all contribute to maritime traditions.
Here we present a selection of maritime traditions, documented visually and in a variety of other ways. Please contact us to suggest relevant sites.
---
Archaeology
Advisory Council on Underwater Archaeology
The ACUA has been at the forefront of underwater archaeology for more than 50 years. The ACUA serves as an international advisory body on issues relating to underwater archaeology, conservation, and submerged cultural resources management. It is working to educate scholars, governments, sport divers, and the general public about underwater archaeology and the preservation of underwater resources.
Museum of Underwater Archaeology
The online Museum of Underwater Archaeology (MUA) mission is to assist and promote the use of the Internet by ethical professional, student, and avocational underwater archaeologists. The MUA helps underwater archaeologists present their research to the general public by creating web-based museum-style exhibits. MUA supports and follows the ethical principles of the Society for Historical Archaeology.
---
Boats and Boat Building
Traditional Boats East and West
Boatbuilder, writer and researcher Douglas Brooks has a special interest in traditional Japanese boatbuilding. In the summer of 2013 he was building a traditional Japanese boat as part of the Setouchi International Festival in Takamatsu, Japan. Follow his blog here.
And read more about the Setouchi Triennale 2013: "An Art and Island Journey Through the Seasons on the Seto Inland Sea" here.
Watertight Bulkhead Technology of Chinese Junks
Watertight bulkhead technology in Chinese junks was a significant invention in the history of navigation. Ships salvaged in the 1970s in the Quanzhou area of Fujian providence technology widely used in the 12th century. This 9:21 video uploaded by UNESCO, explains the core technologies of the process, and the vanishing numbers of masters who carry the knowledge with them.
Nova Scotia Schooners
Lunenberg, Nova Scotia has a rich maritime history going back 250 years, but that also has an eye toward the future. Nova Scotia Schooners is a half hour documentary that explores the resurgence of interest that has taken place during the past decade in these traditional wooden vessels.
National Historic Ships
National Historic Ships is dedicated to the immediate issues concerning historic vessels in the UK, and to addressing questions relating to the support infrastructure for historic ships, their potential for contributing in the wider economic, social and community context, and by maintaining a watch list of vessels abroad with potential UK significance. Visit also their sister site The Shipshape Network - the U.K. wide network for ship conservation - for information about suppliers and materials to maintain your vessel.
"Architecture of the Rabelo," Documentary Film on Boatbuilding (in Portuguese)
A graceful shell-built boat particular to Portugal's River Douro is the subject of this 1992 documentary film, which records in detail a vanishing tradition. A photographic record of the filming, by Carlos Romao, is presented as a visual blog. Available on DVD with soundtrack in Portuguese, English and French; for more information, see http://www.sinalvideo.pt/.
Albaola is an association located in the Basque Country which works in the fields of culture and maritime heritage. Their aim is the development of maritime heritage through research into and recovery and diffusion of tangible and intangible maritime heritage. They put into practice theoretical knowledge of Basque maritime heritage, and involve the general public in activities of heritage interest.
The Apprenticeshop
Training craftsmen and women in the art of traditional boabuilding and seamanship since 1972, the Apprenticeshop is recognized as one of the finest and oldest traditional boat building schools in the country.
---
Fishing and Seafaring
Nova OnLine: The Vikings: Secrets of Norse Ships
Explore the legendary abilities of Viking seafarers, their culture and beliefs; includes filmed tour of a Viking village.
Traditional Whaling in Indonesia
Photographs by Stuart Isett Lamalera is one of the last places where traditional whale hunts exist, using tools little changed in 200 years.
Traditional Maori Fisheries
The spiritual, cultural, and conservation approach of Maori people to their fisheries, with links to a history of New Zealand fisheries and modern fisheries information.
Village by Village: Recovering Fiji's Coastal Fisheries
Profiles traditional fishing culture and how residents use tradition to address contemporary issues
Cultural Traditions for Marine Conservation
The peoples throughout the Pacific Islands used customary practices of marine protection in line with traditional spiritual beliefs in order to counter marine resource depletions.
MASIFUNDISE: The Life and Culture of Traditional Artisanal Fishers (South Africa)
Maritime Material Culture
For links to maritime museum websites and exhibitions, visit the W2O's Maritime History section. For additional links to maritime museum websites and exhibitions, visit the W2O's searchable online database. Tick the box for 'Maritime History'.
---
Music Poetry and Film
The Northern Neck Chanty Singers
In this 17:20 video, the Northern Neck Chanty Singers, a group of fishermen from Reedsville, VA, sing several traditional songs of the menhaden fishing industry, songs that the fishermen use to coordinate the work of hauling nets and other tasks associated with fishing menhaden in the Virginia waters at the mouth of the Chesapeake.
Fisher Poets' Gathering, Astoria, Oregon
The Gathering brings together men and women from fishing-related industries to read their poems and stories, sing their songs, share and socialize in this historic Northwest fishing and canning town. Clips from readings, poems, images, and more.
International Maritime Film Festival
An annual event for maritime-themed filmmaking. The IMFF is a juried contest of films celebrating maritime heritage, the spirit of adventure, and the ingenuity of boats and waterborne pursuits.
---
Religion & Mythology
IceWisdom International
The Arctic ice cap is melting at an alarming rate, threatening the world with consequences we can barely imagine. We're faced with the moral responsibility to direct ourselves toward a more positive spiritual and planetary evolution. IceWisdom International is committed to preserving Mother Earth and all who live on her by creating Healing Circles, and through participation in international symposia and environmental preservation and educational programs.
Mami Wata - Arts for Water Spirits in Africa and Its Diasporas
The National Museum of African Art presents the water spirit Mami Wata (Mother Water), at once beautiful, protective, seductive, and dangerous, she is celebrated throughout much of Africa and the African Atlantic. A rich array of arts surrounds her, as well as a host of other aquatic spirits--all honoring the essential, sacred nature of water. Mami Wata is often portrayed as a mermaid, a snake charmer, or a combination of both. She is widely believed to have "overseas" origins, and her depictions have been profoundly influenced by representations of ancient, indigenous African water spirits, European mermaids, Hindu gods and goddesses, and Christian and Muslim saints. She is not only sexy, jealous, and beguiling but also exists in the plural, as the mami watas and papi watas who comprise part of the vast and uncountable "school" of African water spirits.
Click here to view the New York Times' Slideshow: An African Mermaid
---
People of the Sea
Here we present a sampling of websites and image portfolios that document people who live by the sea, illustrating maritime culture as it is lived today, often with deep roots in the past.
Vanishing Sail: A Caribbean tradition on the verge of extinction
Through a collection of dramatic sailing scenes, rare archival footage and unprecedented interviews with the last Caribbean Sea Captains, Vanishing Sail seeks to preserve the legacy of boatbuilding in the Grenadines, introduced by Scottish settlers in the 19th century, and hopes to revive interest in the art form before it expires on the heels of progress.
Voices of the Fisheries: Oral History Database
Oral history interviews are a powerful way to document the human experience with our marine, coastal, and Great Lakes environments and our living marine resources. Each story archived here provides a unique example of this connection collected from fishermen, their spouses, processing workers, shoreside business workers and operators, recreational and subsistence fishermen, scientists, marine resources managers, and others --all among NOAA's fishery stakeholders.
Arctic Studies Center, National Museum of Natural History, Smithsonian Institution
Northern peoples such as Japan's Ainu, Sweden's Saami, the Vikings, and Alaska natives are profiled in online exhibitions presented at the Center's website, along with an Arctic resources page and much more.
"Reportages" (Photographs, text in French)
A series of dispatches by marine photographer Philippe Plisson, presented as slide shows. Philippe Plisson has provided photography throughout the W2O website.
Mekong River and Dam Photos
Living River Siam works to support local rights to natural resources, sustainable water resource management, and to oppose threats to rivers and riverine ecosystems in mainland South-east Asia.
Sea People
A section of the Smithsonian Institution's major exhibition and website Planet Ocean, examines communities that live by the sea.
The Moken people of Thailand
The Wake of the Tsunami Brings Both Help and Harm to Thailand's Mogen People
The Badjao People of Palawan Island
Antonio Graceffo travels to meet the Badjao community on Palawan
Tsunami, 10 years on: The sea nomads who survived the devastation
Article: Thailands indigenous sea nomads predicted the waves that swept away their villages in 2004 and most escaped unharmed.
Burma Sea Nomads Compendium
This report by Project Maje seeks to fill some of this information gap with a collection of 29 documents and articles from 1997 to 2004 concerning Burma's "Sea Nomads" in a format accessible to those who are interested in Burma and indigenous/nomadic peoples issues.
Born to Swim: In Southeast Asia, sea nomads known as the Bajau offer a glimpse into how humans may have adapted to an aquatic way of life. From Hakai magazine.
---
Rituals , Ceremonies, Festivals
Donsal (Phillipines) Whale Shark Festival
Photography by Jurgen Freund and Stella Chiu-Freund
Turtle Calling in Fiji
Article from the Fiji Times on the practice of turtle calling
---
Traditional Maritime Industries
Salt-Making, Piran, Republic of Slovenia
An unusual museum located in a traditional and active salt-works, preserved as part of the project "All About Salt, " a partnership between Greece, Portugal, Slovenia, and Bulgaria and funded by the EU's Phare program.
Mekong Lifeways: Smithsonian Center for Folklife and Cultural Heritage
(in Vietnamese and English)
A photodocumentation of six villages in the Mekong Delta seeks out the reality of life in these communities; the project was a partnership among the Smithsonian Institution, the Vietnam Museum of Ethnology, and An Giang University.
The history of maritime endeavor is contained primarily in museums, libraries and archives around the world, many searchable on-line. In addition, there are many Internet discussion groups and list-serves, bibliographies, magazines and journals, and other collections of material culture that evoke the wide spectrum of life by and on the sea.
---
Maritime Museums
A majority of the major maritime museums or institutions with maritime collections are members of the associations below. Additional organizations can be found in the World Ocean Directory.
International Congress of Maritime Museums
Council of American Maritime Museums
The Navigation of Knowledge - Network of Historical Naval Dockyards
From Brunei to New Zealand - A selected listing of exhibits around the world
---
Libraries, Archives and Specialty Collections
Libraries and archives frequently contain maritime-related collections of rare books and manuscripts, maps and charts, portraits, letters, photographs, objects and ephemera. Additional material can also be found in local historical and genealogical societies, natural history museums, folk arts and craft collections, and science and environmental centers in coastal settings.
Mystic Seaport, G.W. Blunt White Library Mystic Seaport Collections and Research Department - Online Resources
The Mariners' Museum Research Library
The Smithsonian Institution Libraries
Maritime History Archive, Memorial University, Newfoundland
---
Ships and Boats
Maritime history is well told through the voyages of innumerable ships plying the high seas, transporting goods, people and ideas worldwide in a complex weave of successful passages through time. These ships are evident throughout the history of civilization. They evoke the triumphs and tragedies of human endeavor, the myriad individual stories that collectively proclaim human achievement.
ShipHistory.org: STEAMing into the Future (Interactive Site)
All Things Boat | Famous Ships & Famous Ship Names
Indigenous Boats | Small Craft Outside the Western Tradition
Traditional Small Craft Association
History of the Submarine (1580-1869)
Museum Fleets:
The German Maritime Museum, Bremerhaven
San Francisco Maritime National Historic Park
South Street Seaport Museum, New York
Australian National Maritime Museum
Watercraft Collections, Registers and Inventories:
Museum Small Craft Union List, United States
National Maritime Museum, Cornwall, United Kingdom
New Zealand Maritime Indexhttp://thew2o.net/node/7/edit
Historic Light Stations, United States
Australian Registhttp://thew2o.net/node/7/editer of Historic Vessels
---
Online Collections and Resources
Maritime patrimony is also interpreted through collections of artifacts, models, paintings, archival materials, and ephemera, much of which is found in institutional settings. Several museums and other organizations with large, encyclopedic collections have made these resources publicly accessible through on-line search facility and thematic bibliographies.
Fyddeye (fid-i) A place to discover and share your maritime history
A New Way to Research Vessels: ShipIndex.org
The National Maritime Museum of Greenwich, United Kingdom
Collections Search System for Maritime Museums in the Netherlands
The Mariners Museum, United States
The New Bedford Whaling Museum, United States
---
Selected Internet Bibliographies

Exploration, The Hakluyt Society
Maritime Folklife, The American Folklife Center
Maritime Dictionaries, Termisti
Genealogy, Ship Passenger and Crew Lists
Nautical Archaeology:
Western Australia Maritime Museum, Australia
Nautical Archaeology on the Web
Shipping/World Trade
UN International Maritime Organization
Maritime Transportation - Bureau of Transportation Statistics
Modern Shipping
Lloyd's Register of Modern Shipping
Atlantic World: A specialized history bibliography from Carnegie Mellon University Libraries
Includes: African diaspora, Latin America, slave trade, and many related topics